We love antique brooches and pins --- each one is a miniature work of art!
Victorian Pins and Brooches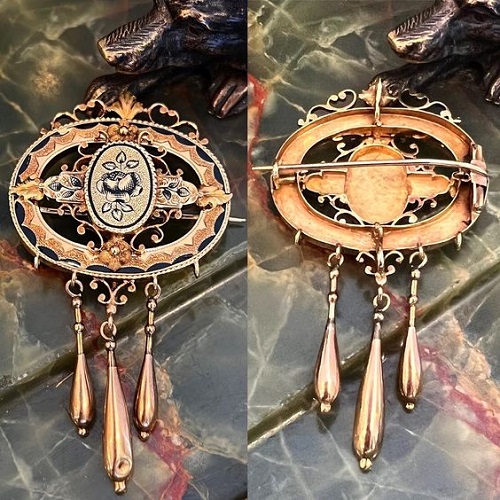 Victorian 14kt gold brooch with detailed engraving and open work with a rose in an oval center enhanced by black enamel accents, circa 1870s-1880s, measuring 2-1/2" by 1-3/4"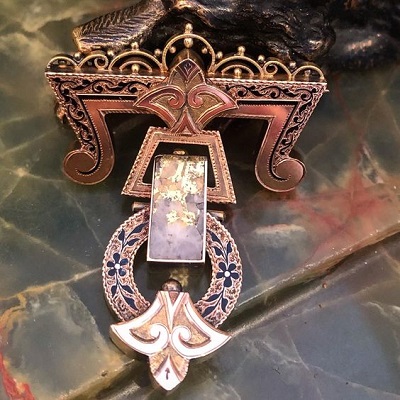 Antique 14kt rose gold brooch with black enamel, engraving and a swinging component set with a gold quartz stone, circa 1870-80s, with tube hinge and open "C" catch, 2" by 1-1/2"
$1275.00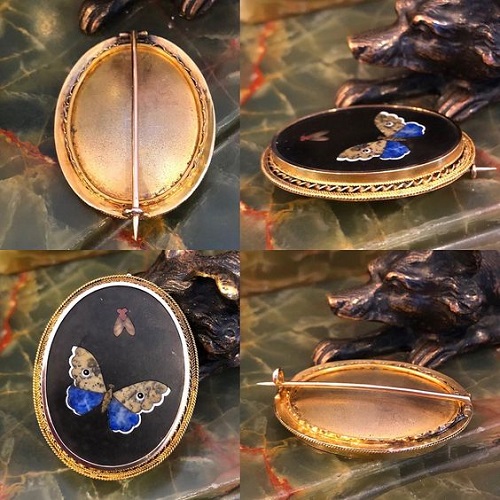 Antique 10kt yellow gold pietra dura oval brooch with a butterfly and a fly, circa 1880s, with a open "C" catch/tube hinge and insert twisted rope border, 1-1/2" long and 1-1/8" wide $495.00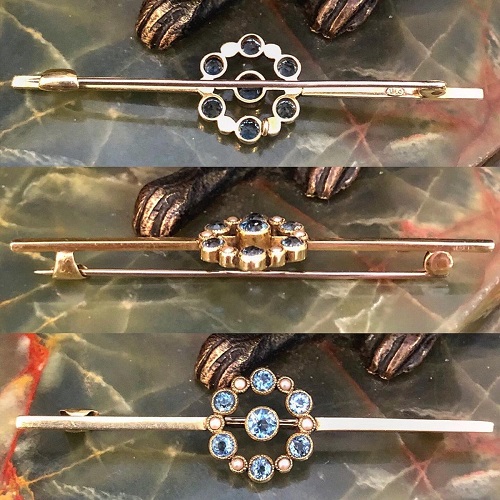 Edwardian 15ct yellow gold bar pin with an aquamarine center surrounded by alternating aquas and seed pearls, circa 1905, 2-1/4" long
$350.00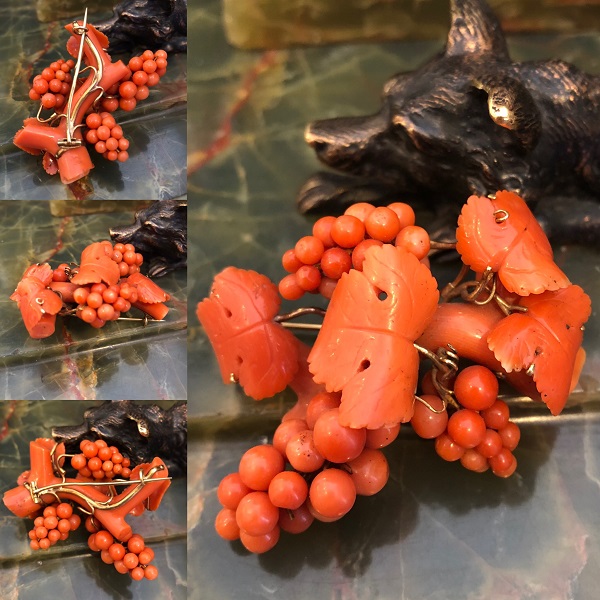 Victorian 14kt salmon coral brooch depicting grape brunches with leaves, measuring 2-1/8" by 1-1/2" tall, circa 1850s-60s
$895.00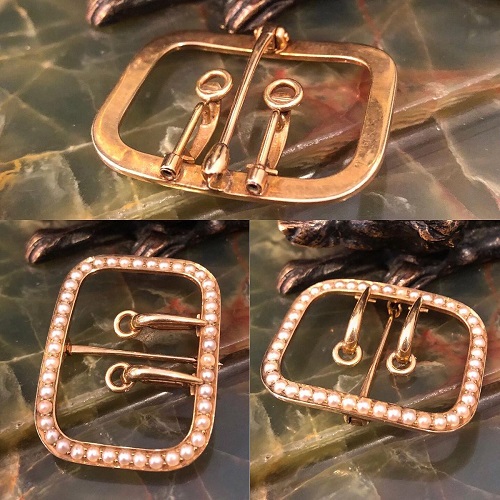 Antique 14kt buckle sash pin/brooch framed by pearls with two prongs orientated horizontally, measuring 1-/2" tall and 1-1/8", circa 1890s
Late Victorian, Art Deco and Retro 14kt gold Pins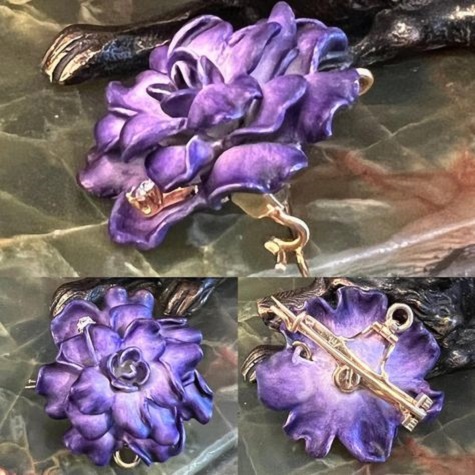 Edwardian 14kt yellow gold "cabbage rose" (Rose de Mai) enameled pendant/brooch with old Euro cut diamond (.08ct), circa 1890s, measuring 1-1/4 wide by Hedges of Newark, NJ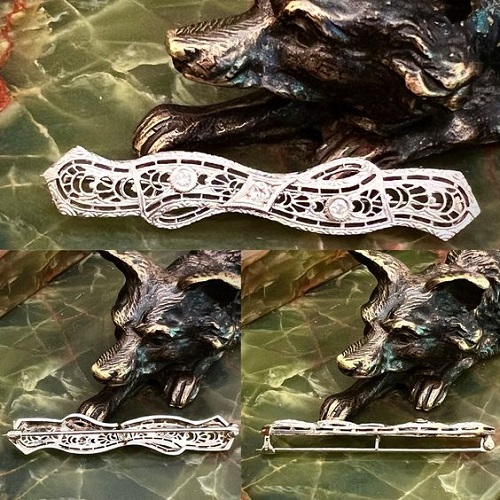 Art Deco 14kt white gold filigree diamond pin with bow set with three round diamonds (.10ct TW), circa 1930, by Shipman Mfg. Co. and measuring 2" long by 3/8" wide
​​​​​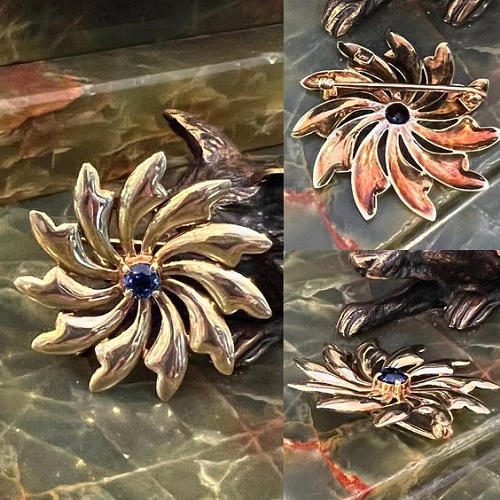 Retro 14K highly polished yellow gold "pinwheel" brooch with a lively blue sapphire (.50ct) prong set in the center, circa 1940's, with a lever safety catch and measuring 1-3/8" wide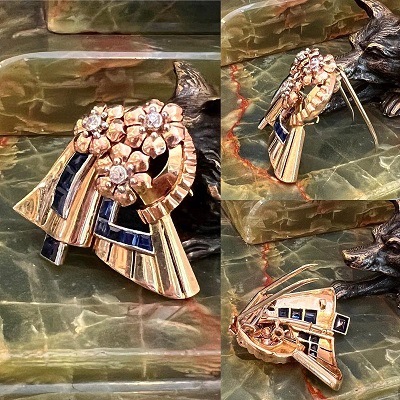 Retro two color 14kt gold sapphire (2.0ct TW) and diamond (.22ct TW) dress clip with three old mine cut diamonds set in flowers , circa 1940s, measuring 1-1/2" wide and 1-1/8" tall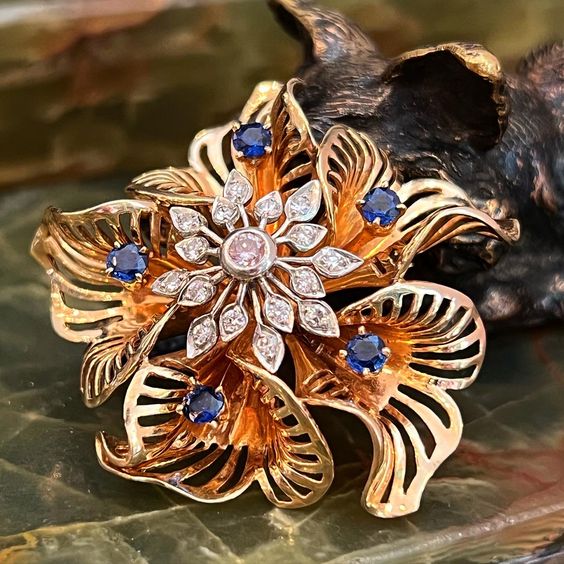 Retro 14kt flower brooch with open work petals in a pinwheel design around the platinum diamond center (.50ct TW) each petal set with a blue sapphire, circa 1940s, 1-3/4" across
$1550.00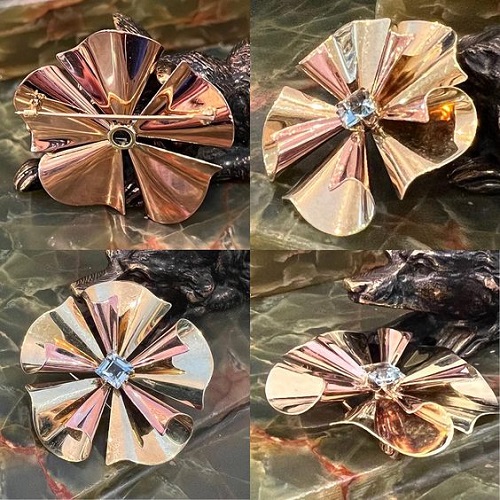 Retro 14kt two color curved ribbon petaled brooch with square aquamarine (.89ct) center with a "pinwheel" effect of design , circa 1940, measuring 1-3/4" across
Estate & Vintage Pieces from the 1950s and 1960's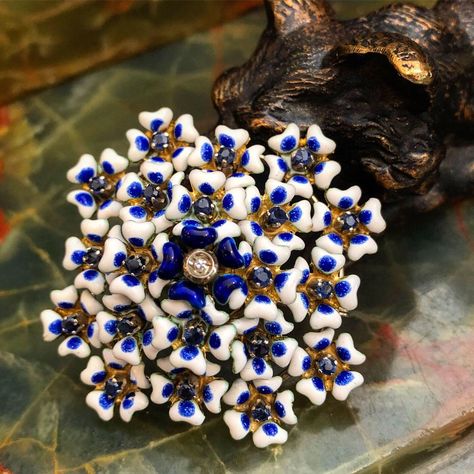 Italian 18kt yellow gold brooch with a delightful design of blue and white enameled flowers with blue sapphires and a diamond center, circa 1960s, measuring about 1-1/2"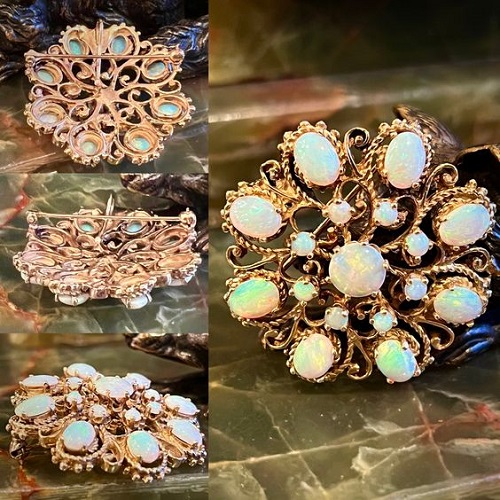 Estate 14kt yellow gold opal snowflake cluster brooch/pendant with oval cabochon opals all with blue ,green and orange play of color, circa 1950s, measuring 1-1/2" across in diameter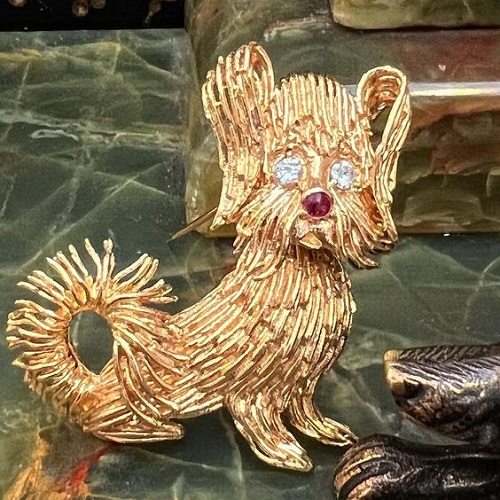 Vintage 14kt yellow gold dog brooch-– perhaps a terrier—with nice gold wire work detail, diamond eyes (.14ct TW), cabochon ruby nose (.18ct) circa 1960s, measuring 1-1/2" X 1-3/4"
$1275.00