We adore tea time at The Antique Guild!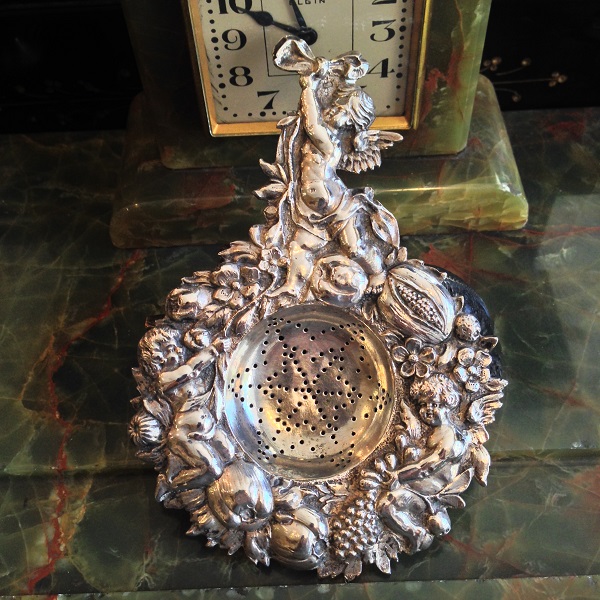 Figural Continental silver tea strainer with angels and fruit, circa 1890s, 5-1/2" long and 3-1/2" at widest point $300.00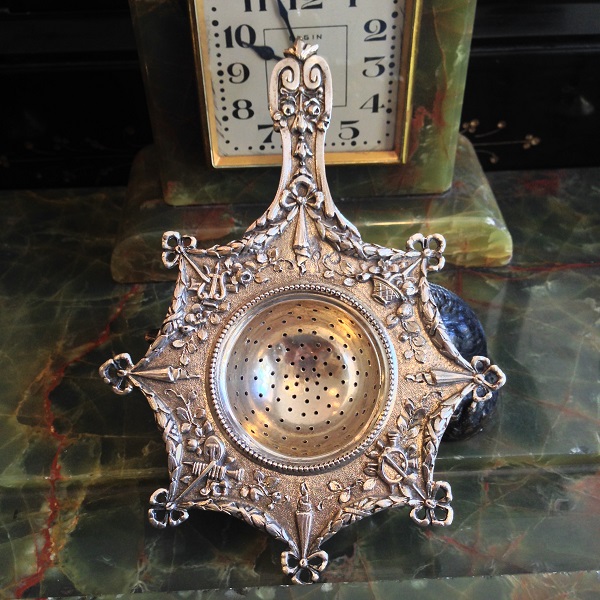 German "Hanau" 800 silver tea strainer with seven points of ribbon garlands measuring 5-3/4" long and 4" across at widest point HOLD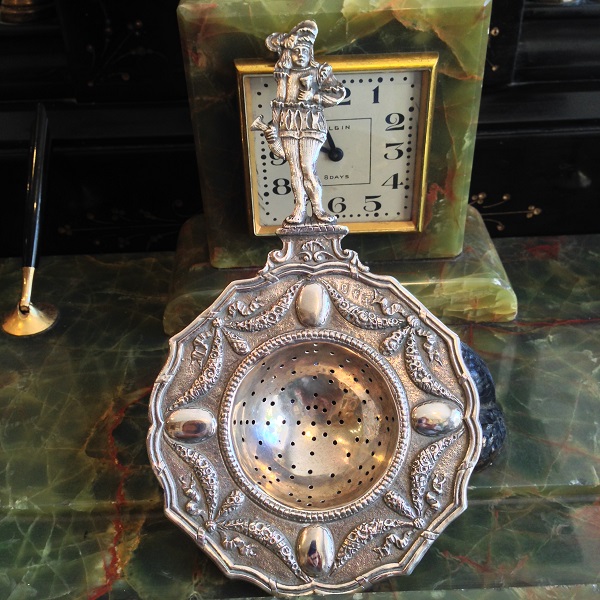 German tea strainer. 800 silver. with full figure cavalier on the handle measuring 7" long by 4"

$295.00

Silver Tea Caddy Canisters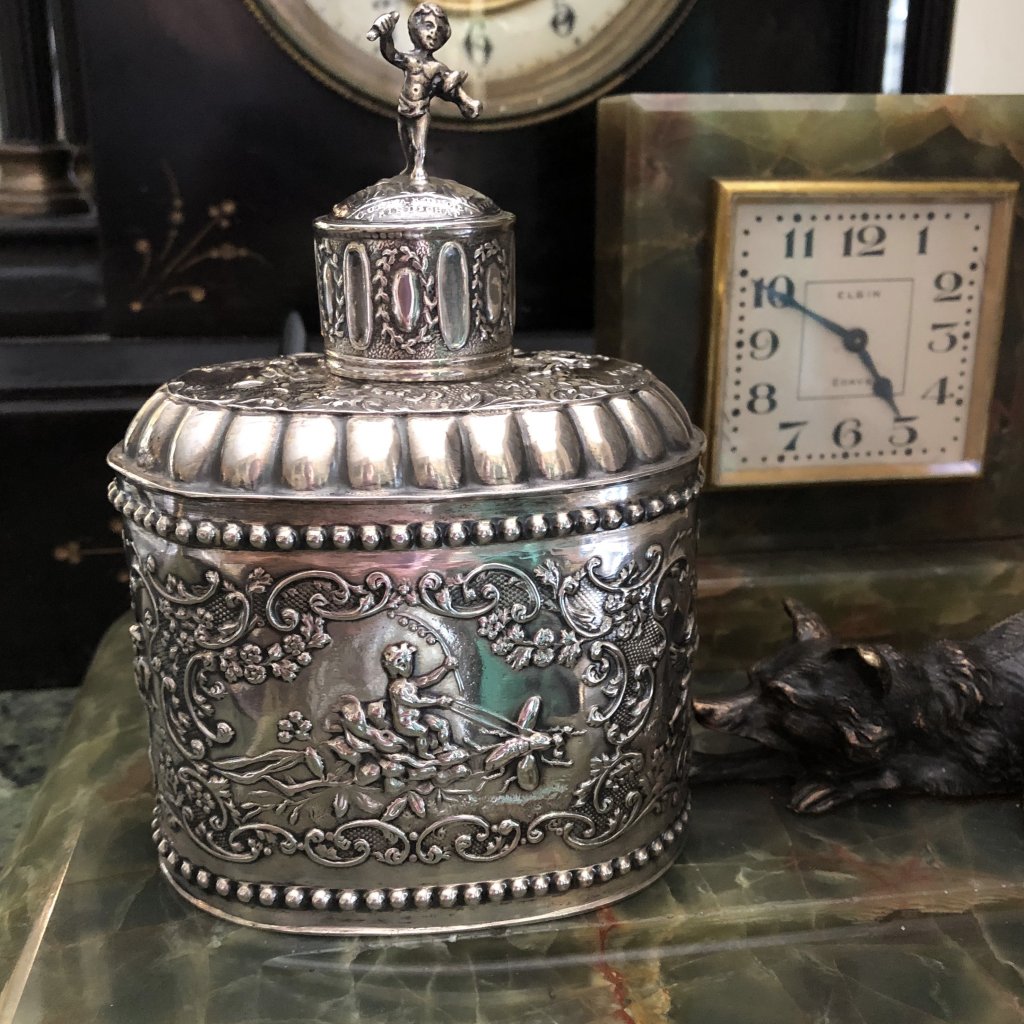 Dutch 833 silver (export mark) tea caddy with a Neoclassical scene of a putto driven chariot drawn by an insect on both sides with a putto finnial measuring 5-1/2" tall with 3-1/2" long

$350.00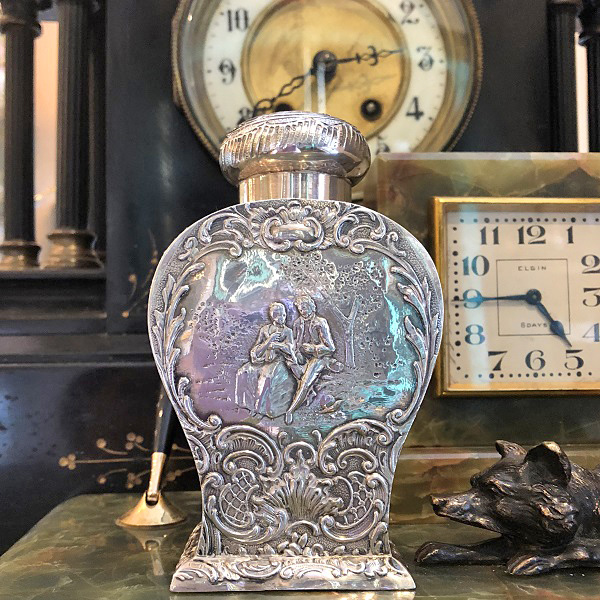 German Hanau sterling silver tea caddy with English import marks circa 1899 with Neoclassical scenes including the round top, measuring 5-1/2" tall and 2" by 2-1/4" at base

$395.00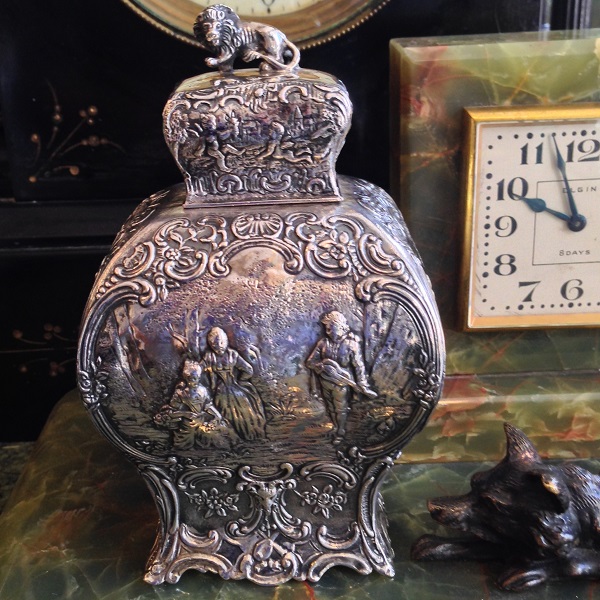 German Hanau 800 silver tea caddy with four Neoclassical scenes with lion finnial at the top measuring 5-3/4" tall and 2" by 2-1/2" across at the scrolled design base
SOLD

19th Cenury Sterling Tea Caddy Spoons/Scoops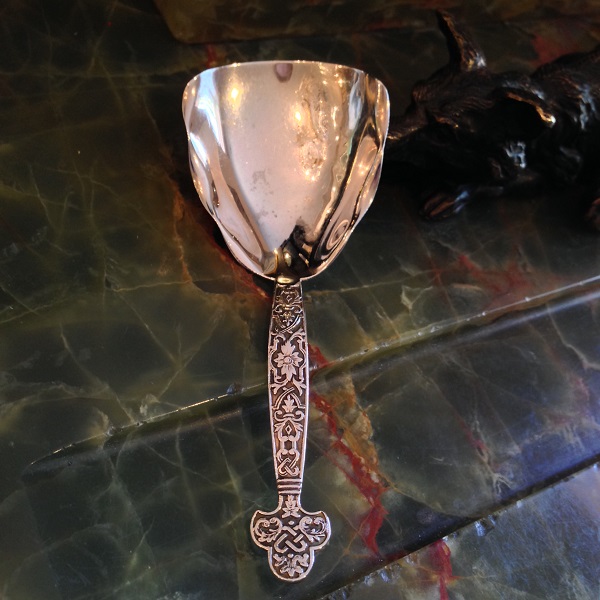 Sterling tea caddy spoon by Gorham (Art & Crafts) with elements of Celtic knot in the design, circa 1880s, measuring 3-3/4" long

$115.00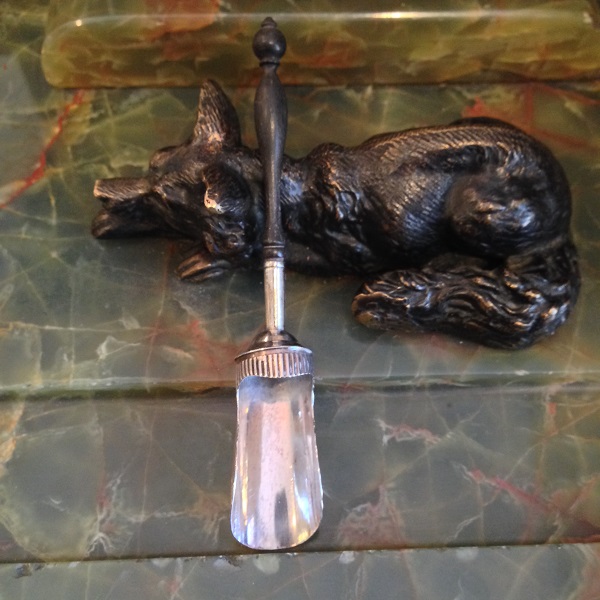 Sterling silver tea caddy shovel with Dutch .833 silver hallmarks with a turned wooden treen handle circa 1870s, measuring 4"

$195.00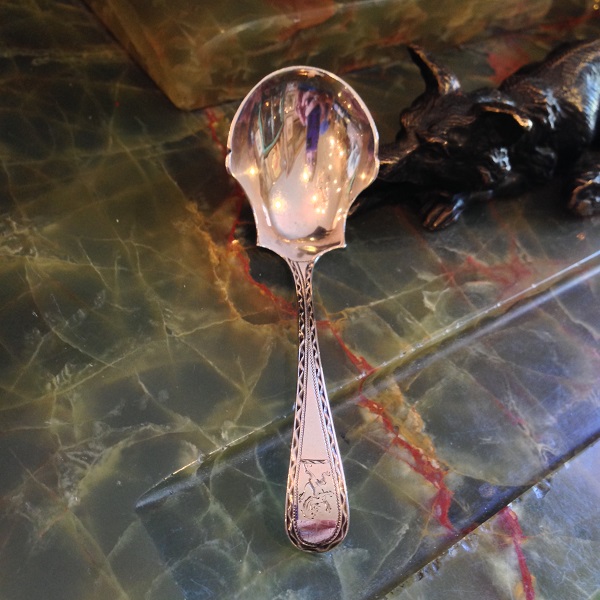 Sterling English tea caddy spoon, early 19th century with feather edging and a lion rampart crest, measruing 3-3/4" long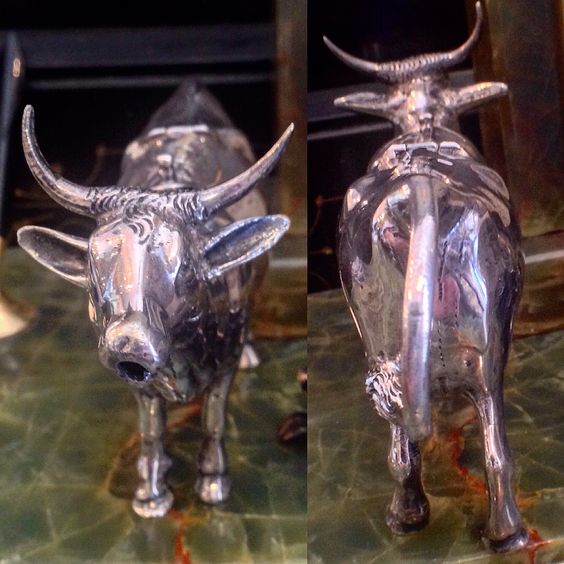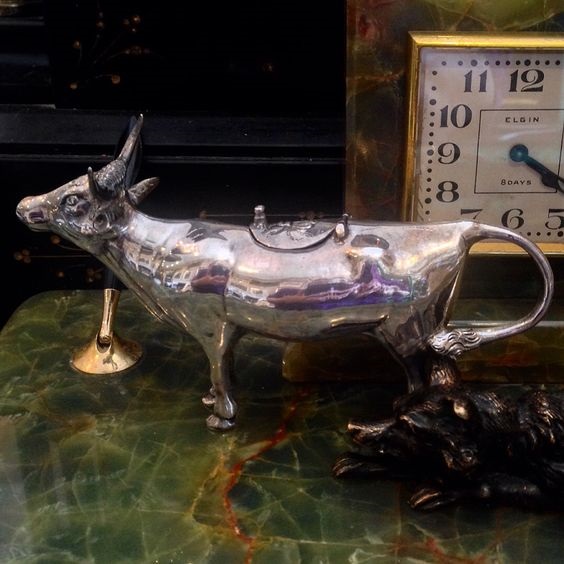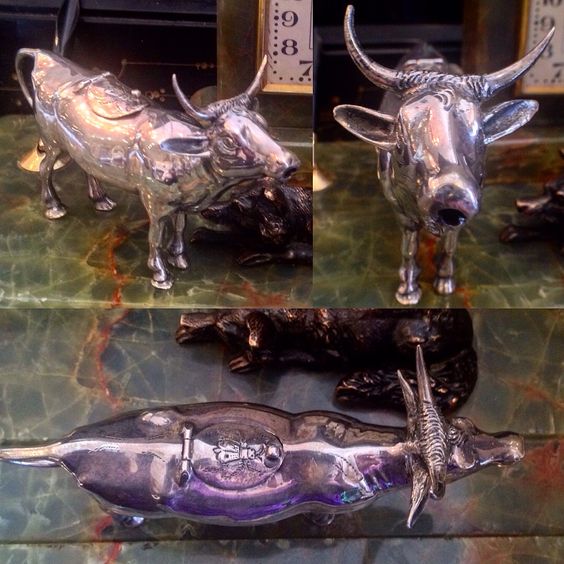 Vintage sterling silver cow cream pitcher marked Sterling Germany measuring 5-1/2" from nose to tail and standing tall 3-1/4" from the end of horn to her hooves;-) with the bee on the back of the hignged lid and the pour spout emanating from the muzzle, circa 1930

$950.00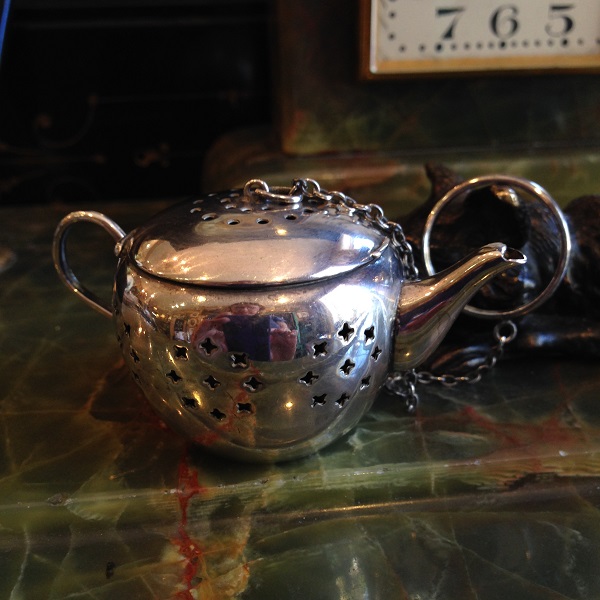 Sterling tea ball in the shape of a teapot with a chain and ring (4-1/4") by International, circa 1915, measuring 3" long from spout to handle

$128.00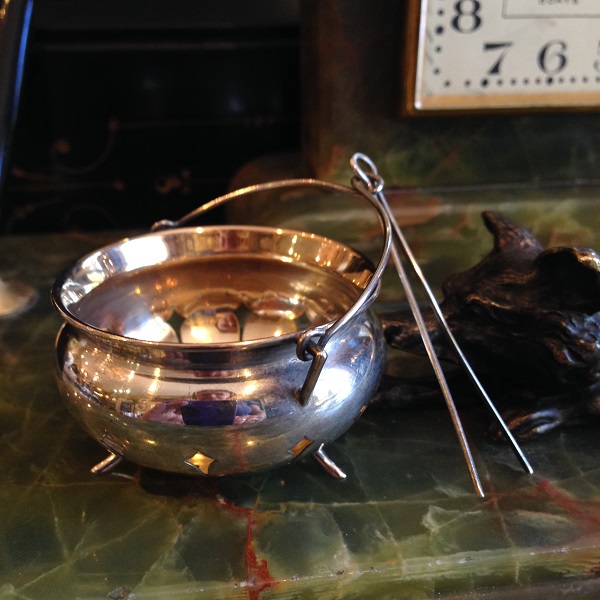 Sterling tea strainer by International in the form of a three legged pot with the spout pin insert, measuring 1-1/8" tall and 1-7/8" across

$95.00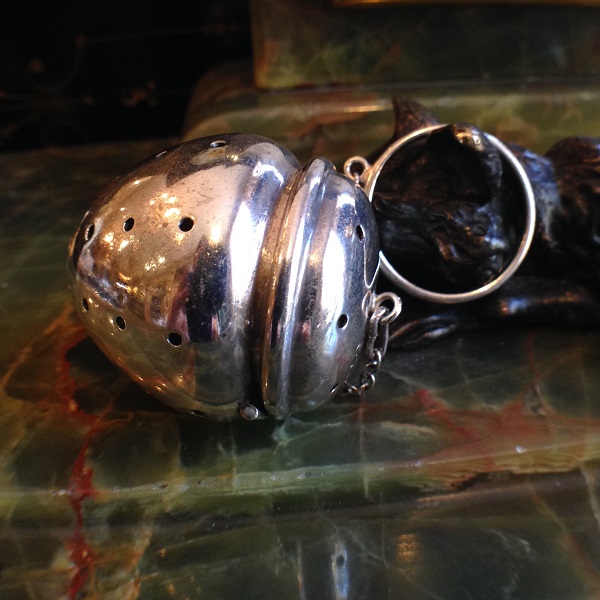 Egg-shaped sterling tea ball infuser with chain by Wallane, circa 1915, measuring 1-3/4" with the chain and ring 4-1/4" long
$95.00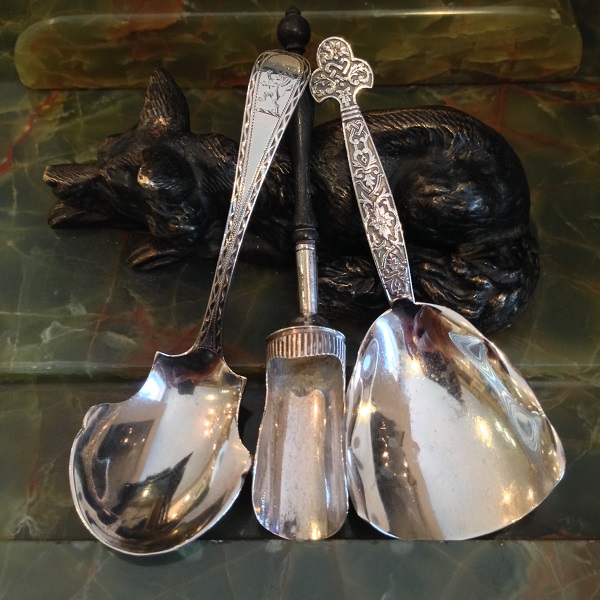 Antique silver tea caddy spoons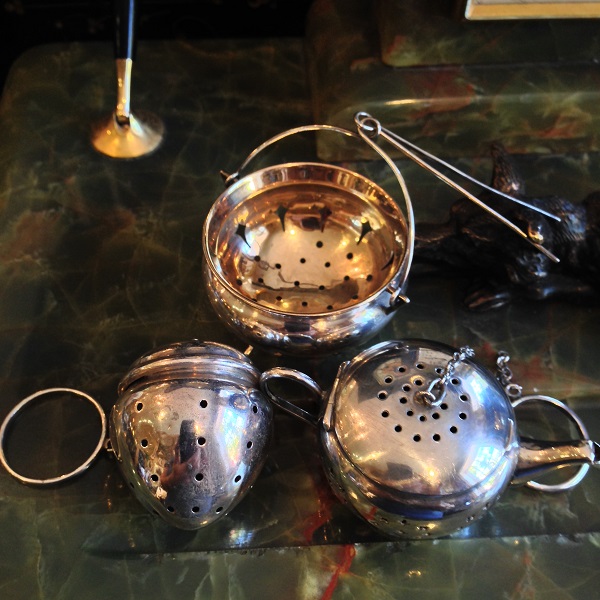 Sterling silver tea strainers