Antique and Estate rings are unique with superb workmanship!
This selection of rings represents only a small grouping of our inventory.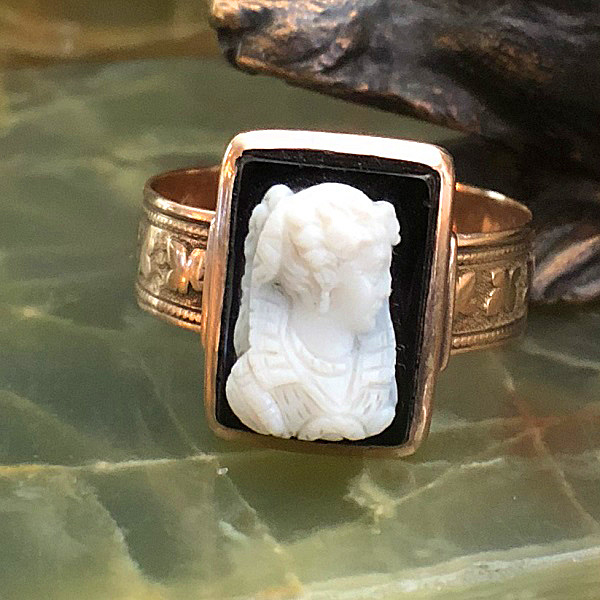 10kt pink gold stone cameo of a woman wearing high collar and jewelry, engraved "M to JO" inside the shank of the wide band
Ring size: 10
$485.00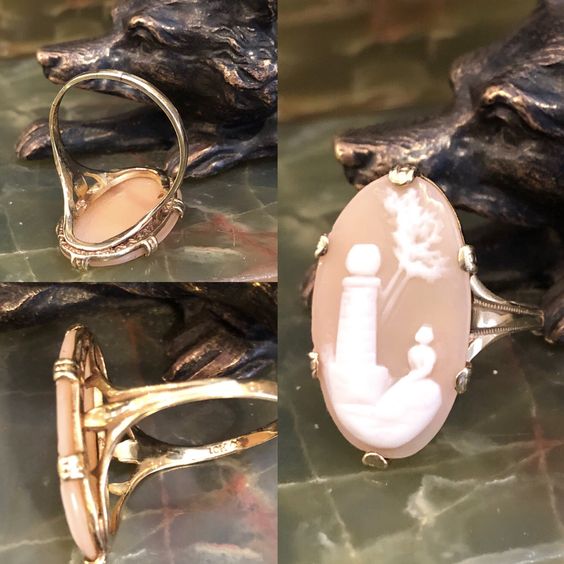 Antique oval shell cameo ring of a scene of a woman with a stone stucture and a tree set in 10kt pinkish gold, circa 1890s,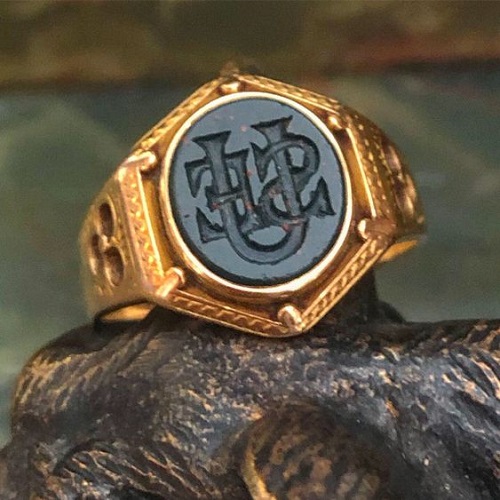 15ct yellow gold ring hallmarked Birmingham, circa 1880s, with an engraved "SEU" in a round bloodstone with an hexagonal frame
Ring size: 6-3/4
$425.00

Edwardian and Art Deco Rings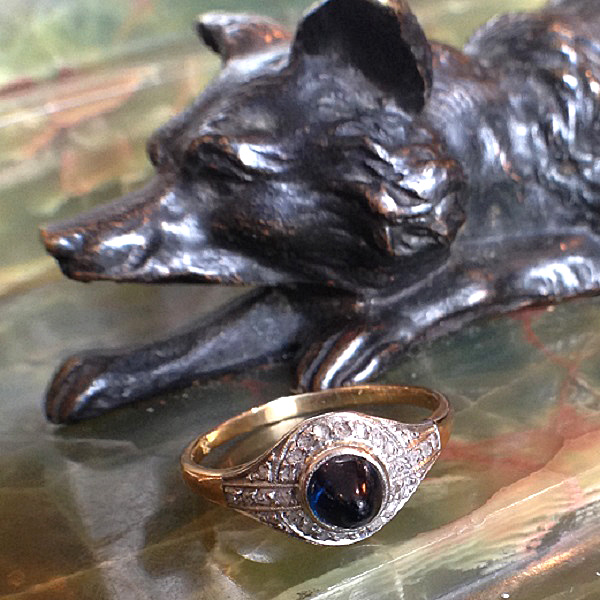 14kt
Art Deco white gold filigree topped
ring with yellow shank with a pointed blue sapphire cabobchon surrounded by rose cut diamonds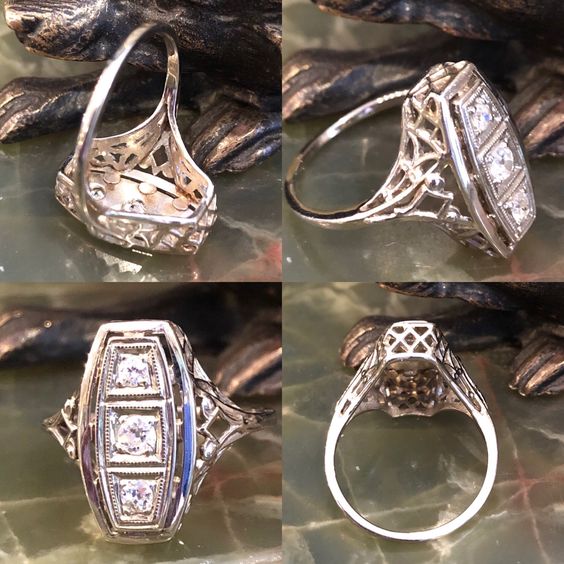 Art Deco 14kt white gold filigree gold ring, circa 1930, with three old mine and old European cut diamonds (.14ct TW) vertically set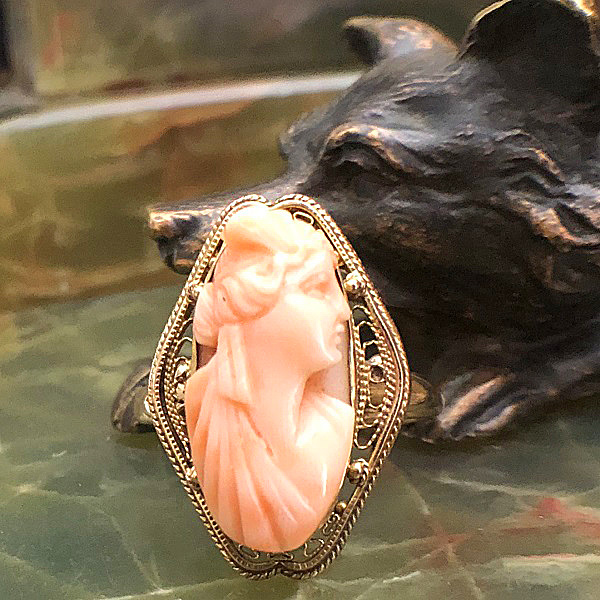 Late Edwardian/early Art Deco carved light orange coral cameo ring with 10kt yellow gold filigree wire work circa 1910-1915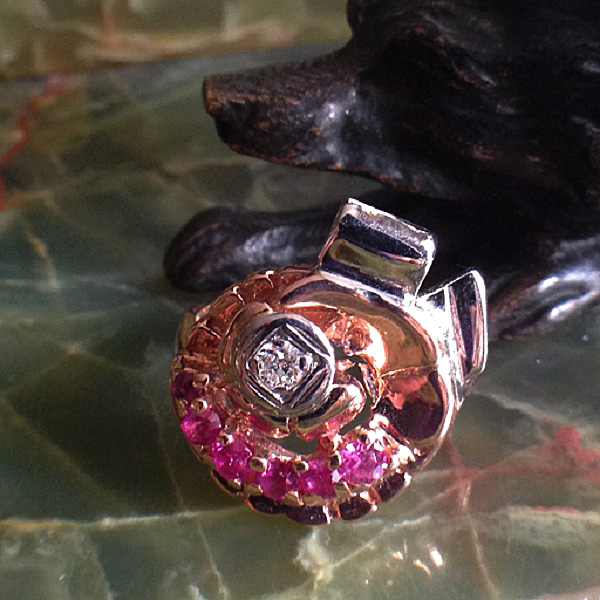 14kt
Retro pink and white gold diamond (white gold) set with synthetic rubies in a flower bow (white gold) design
Ring size: 8-1/4
$750.00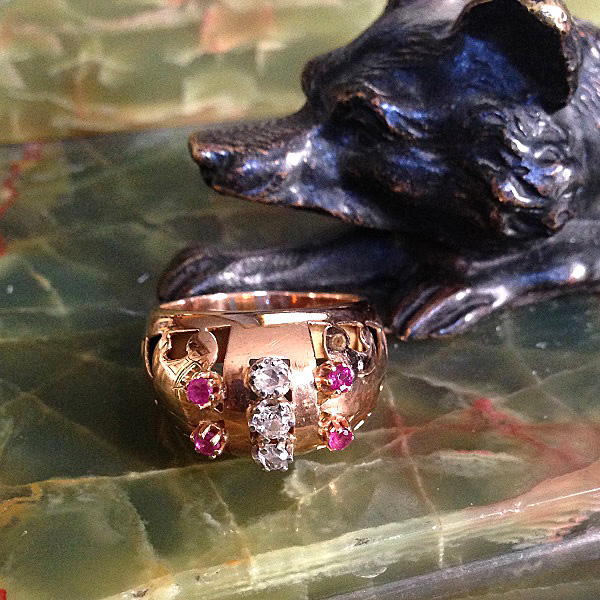 Retro 18kt pink gold dome (cut out) ring with a center old mine diamond and two rose cut diamonds and four pink sapphires circa 1940s

Ring size: 6-3/4

$695.00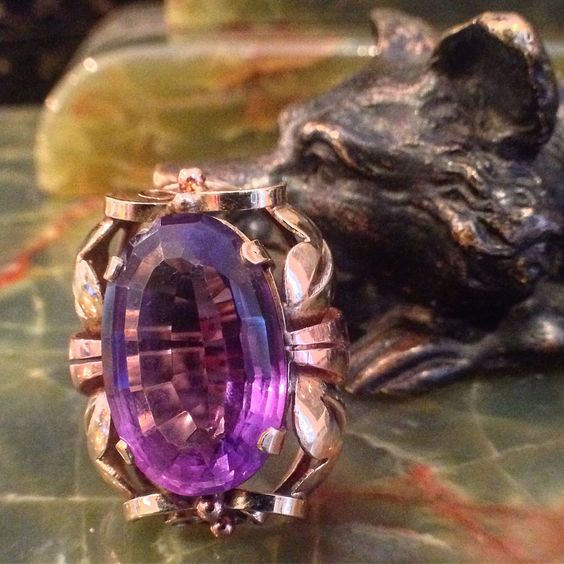 Retro 14kt pink and green gold ring oval amethyst (8ct) in a stylized retro setting with open work , circa 1940s
Engagement Rings & Wedding/Anniversary Bands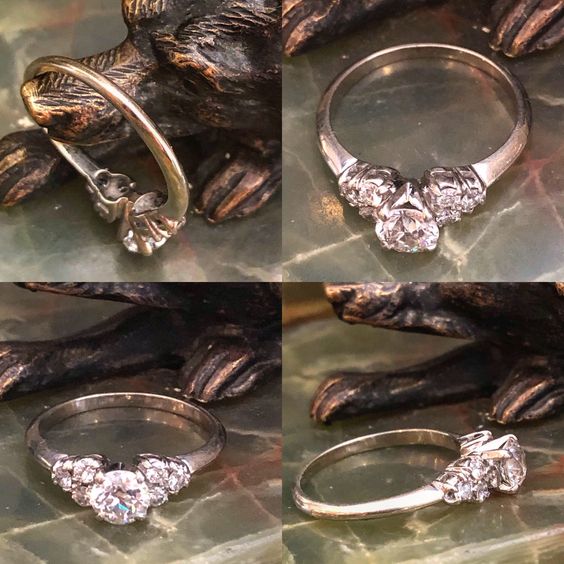 Vintage 14kt white gold diamond engagement ring with an old European transitional diamond (.54ct) and six side stones(.25ct TW)
Ring size: 7
SOLD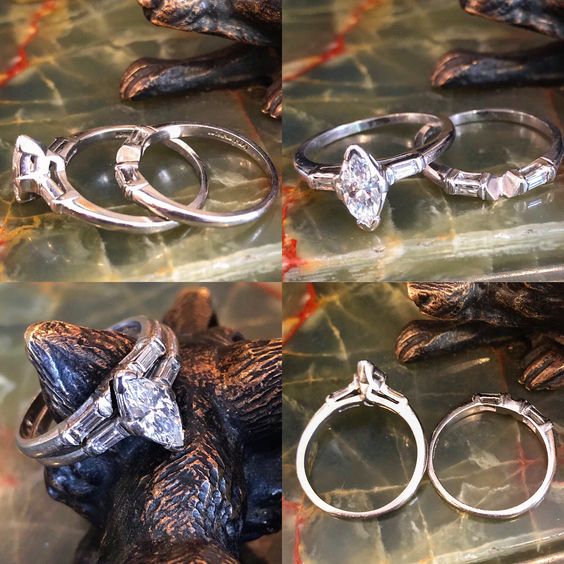 Estate platinum marquise cut diamond "VS1" "I" (.90ct) wedding set with a fitted diamond band, both rings with two baguettes (.22ct TW)
Ring size 6-1/4
$3950.00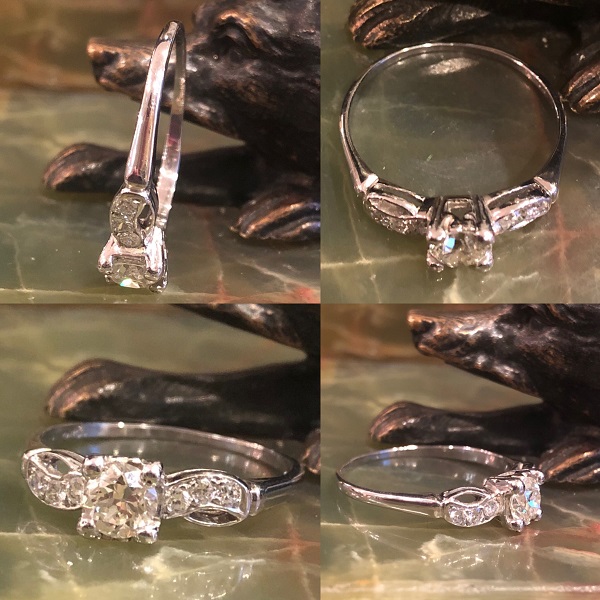 Platinum round Old Euro cut diamond (.54ct) set with another six diamonds (.18ct TW) on the sides in an opposing swirl design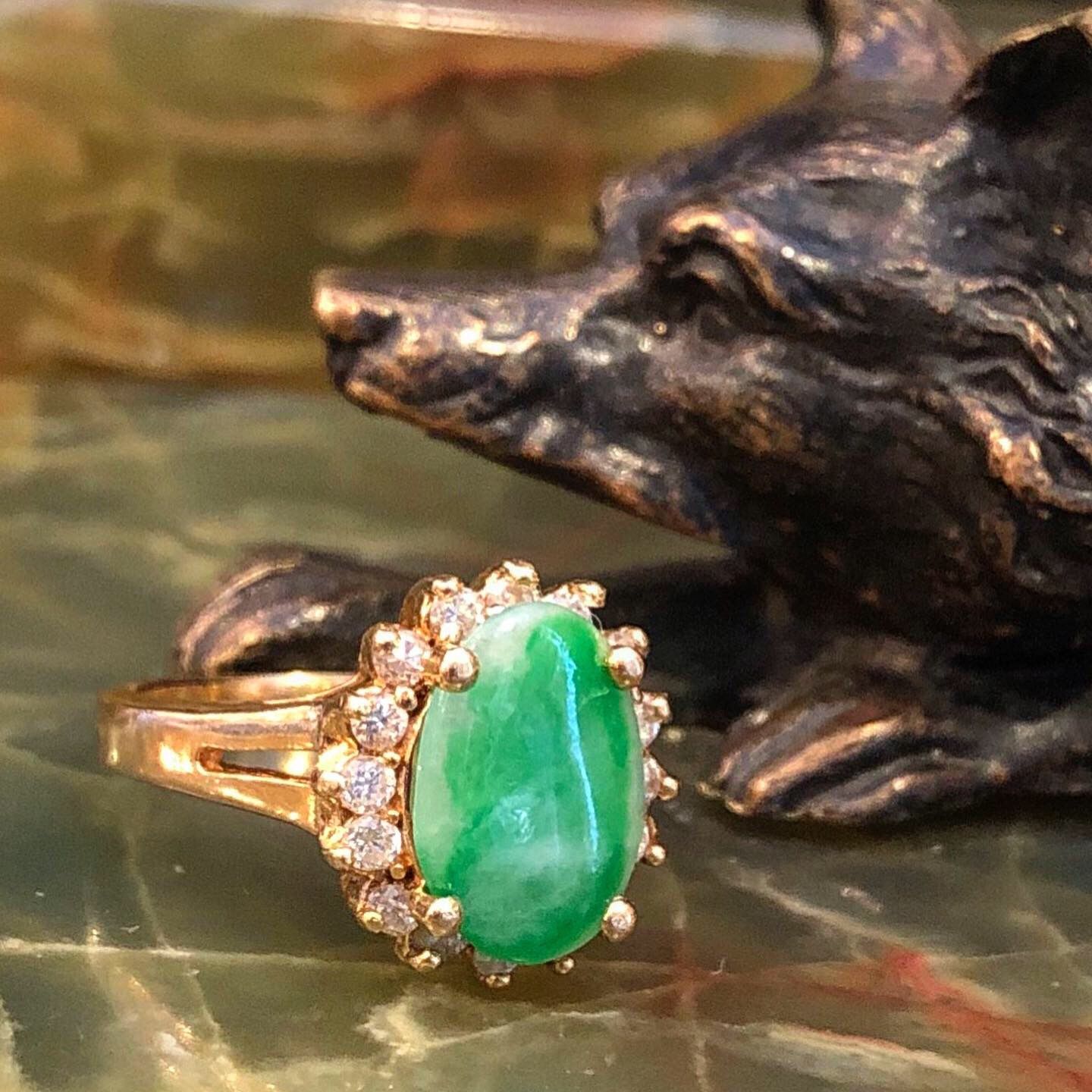 Vintage 18kt oval jade diamond "halo" ring (.48ct TW) with the oval cabochon cut jade surrounded by 16 cut diamonds, circa 1970
Ring size: 5-3/4

$688.00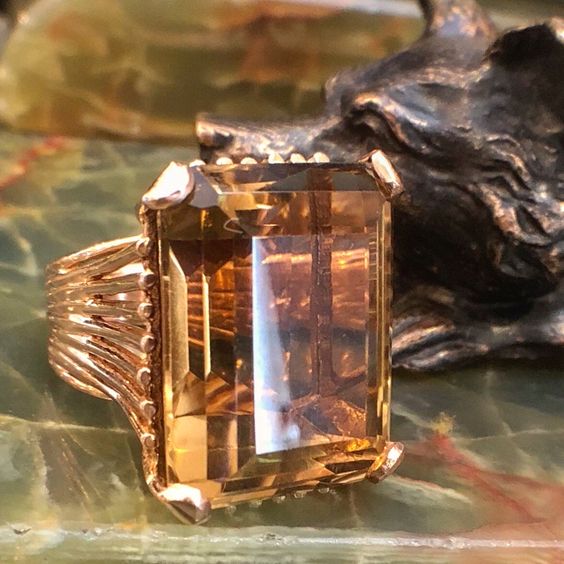 Vintage 14kt pinkish gold emerald cut citrine (dark honey/28ct) ring, prong set with wire basket setting, circa 1950s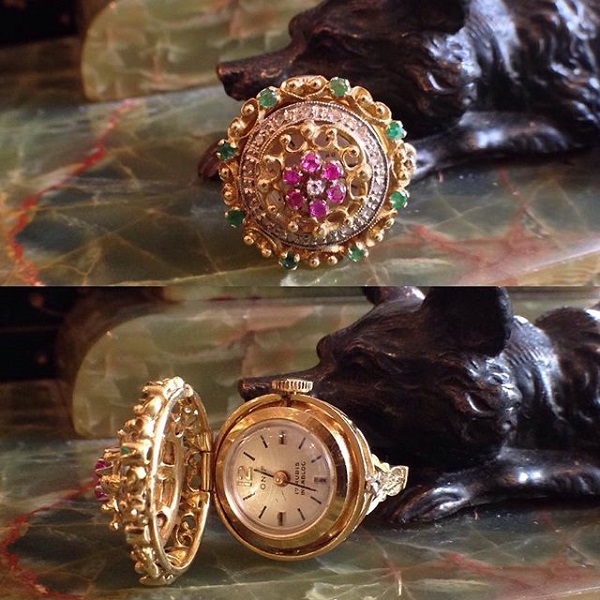 18kt yellow gold watch ring set with a crown of emeralds, rubies and diamonds, circa 1960s, marked "Onif" and "17 Rubis Incabloc"

$1550.00