Antique and Estate rings are unique with superb workmanship!
This selection of rings represents only a small grouping of our inventory.
Antique 14kt rose gold ring with a purplish colored garnet set in a becher setting engraved "Dec. 6, 1871" inside the shank
Ring size: 7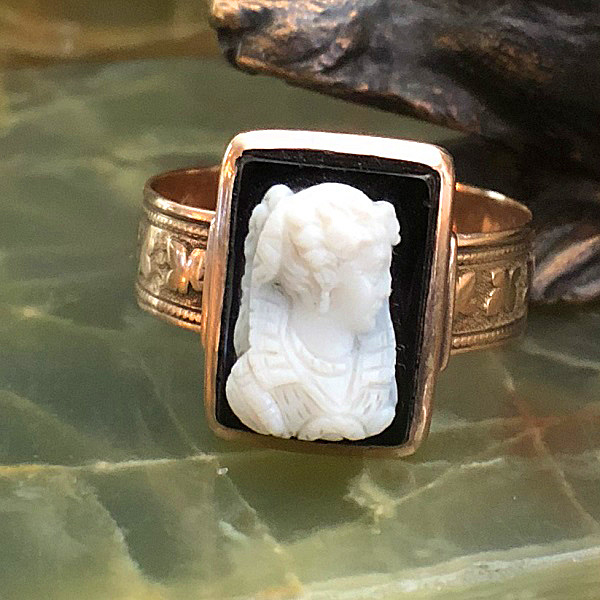 10kt pink gold stone cameo of a woman wearing high jewelry engraved "M to JO" inside the shank of the wide band

Ring size: 10

$485.00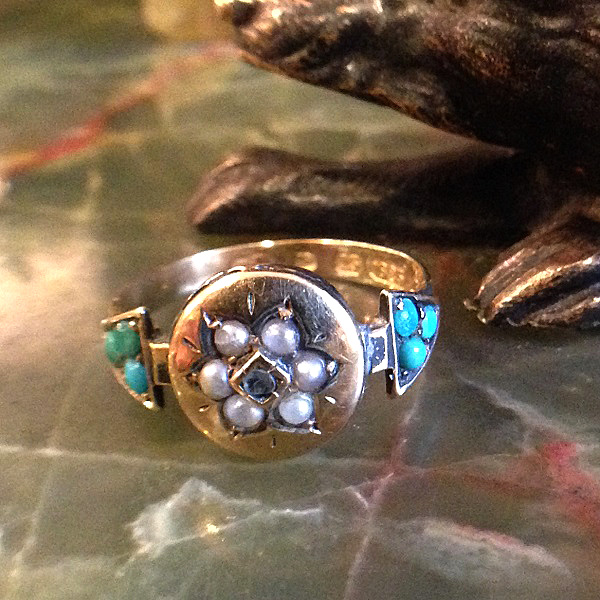 15ct yellow gold ring hallmarked Birmingham, circa 1876, with a rose cut diamond center surrounded by pearls and flanked by turquoise
Ring size: 6+
$225.00

Edwardian and Art Deco Rings
14kt Art Deco white gold filigree "pin cushion" carved green agate set with a diamond in the center circa 1925
Ring size: 6

SOLD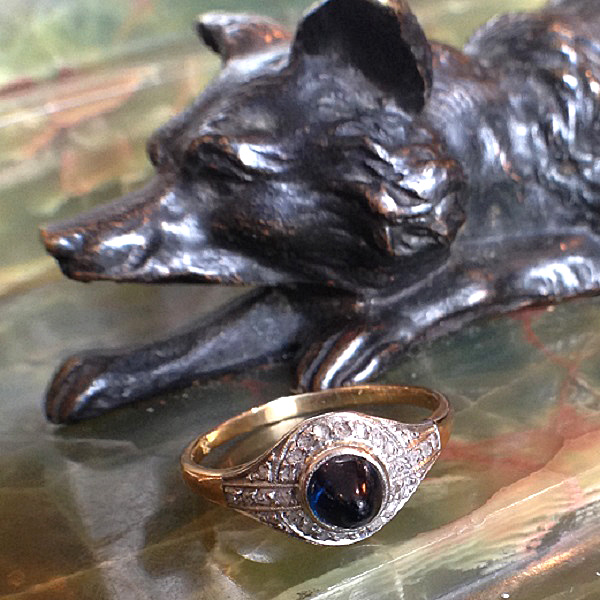 14kt
Art Deco white gold filigree topped
ring with yellow shank with a pointed blue sapphire cabobchon surrounded by rose cut diamonds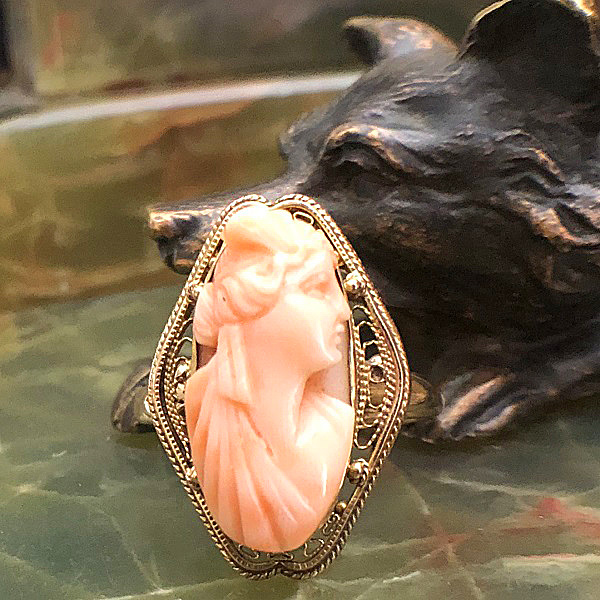 Late Edwardian/early Art Deco carved light orange coral cameo ring with yellow gold filigree wire work circa 1910-1915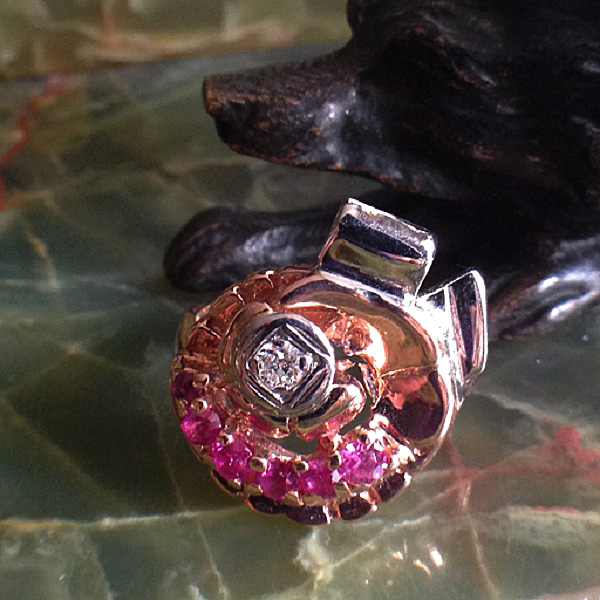 14kt
Retro pink and white gold diamond (white gold) set with synthetic rubies in a flower bow (white gold) design
Ring size: 8-1/4
$750.00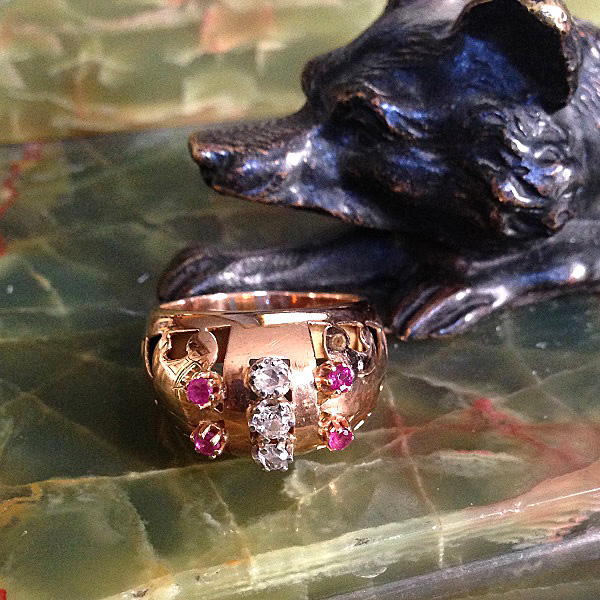 Retro 18kt pink gold dome (cut out) ring with a center old mine diamond and two rose cut diamonds and four pink sapphires circa 1940s

Ring size: 6-3/4

$695.00

Retro 18kt yellow gold ringset with a cabochon cut moonstone in a mounting with stylized scrolled ribbons and beads
SOLD

Engagement Rings & Wedding/Anniversary Bands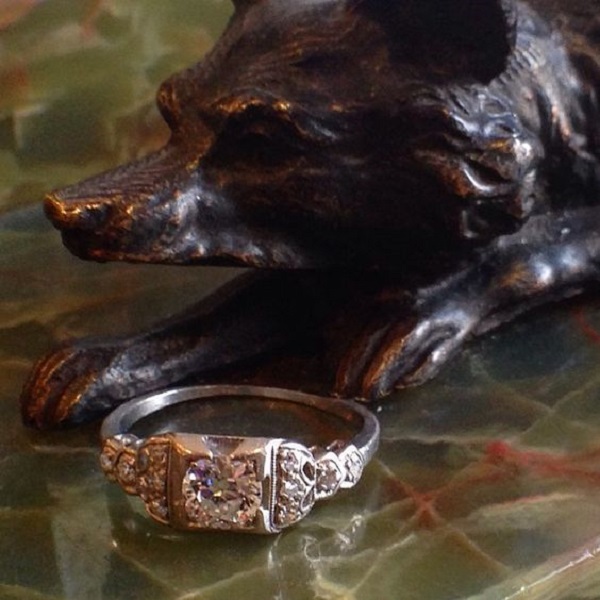 Art Deco platinum diamond engagement ring with an old European transitional round .43ct (VS "G") with ten side diamonds (.15ct TW)

Ring size: 5-1/2

$1860.00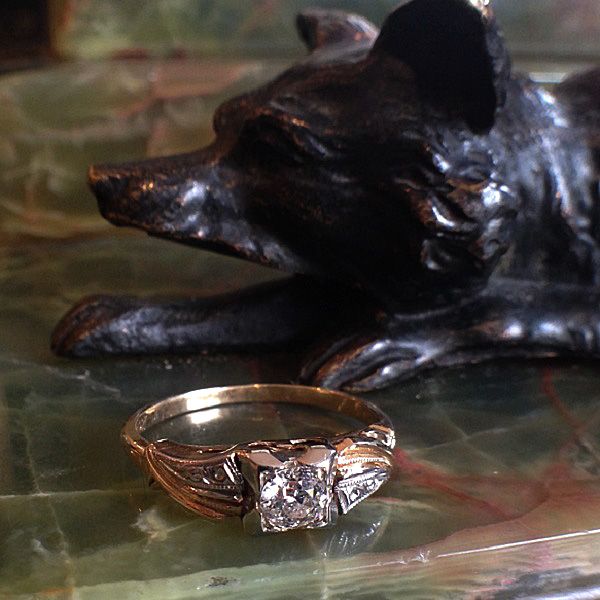 14kt pink and white gold Retroera engagement ring circa 1940's with .35ct center diamond with two color gold design

$595.00
14kt white gold engagement ring set with a .60ct (SI2 "H") center diamond and twelve side diamonds (.15ct TW) , circa 1940
Ring size:5-1/4

SOLD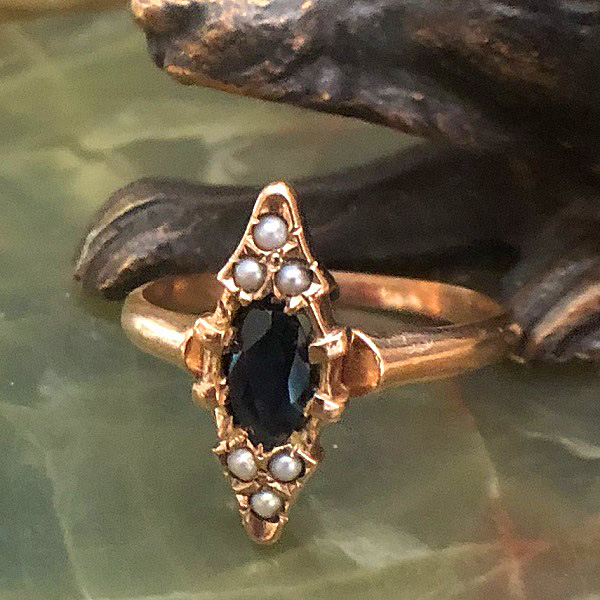 Antique 10kt pinkish gold navette ring set with a blue sapphire (.30ct) with three seed pearls in a triangular shape (6 total) top & bottom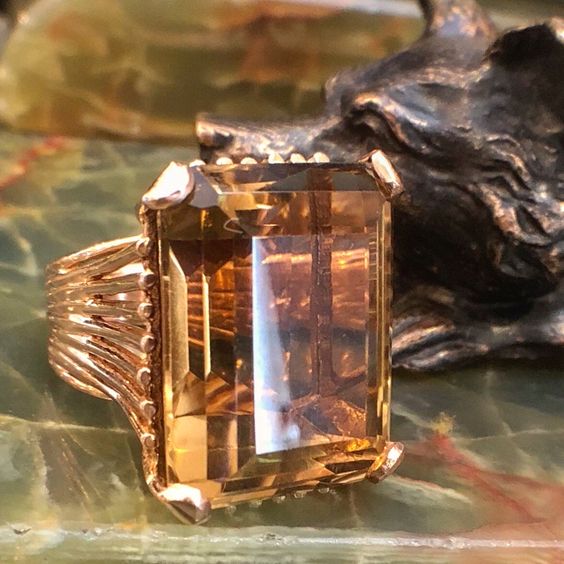 Vintage 14kt pinkish gold emerald cut citrine (dark honey/28ct) ring, prong set with wire basket setting, circa 1950s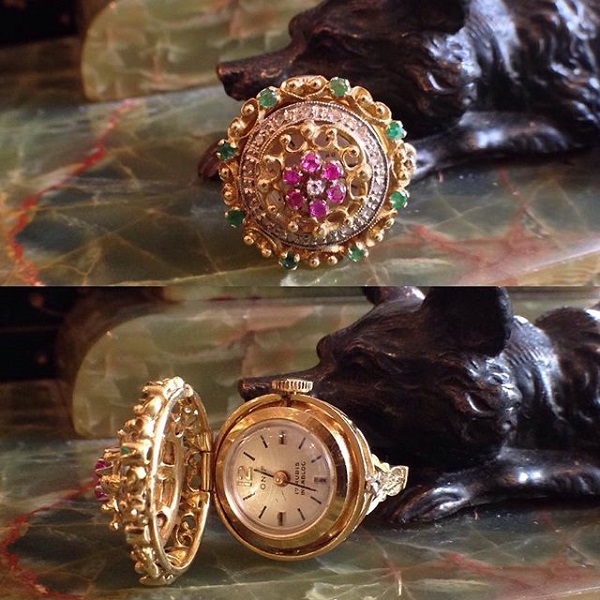 18kt yellow gold watch ring set with a crown of emeralds, rubies and diamonds, circa 1960s, marked "Onif" and "17 Rubis Incabloc"

$1550.00